Our Brand
Our brand is our reputation, and our reputation means everything. A strong reputation attracts the best students, the best staff and the best faculty. Our brand attracts research funding and drives rankings for our university and our colleges and schools. Our brand drives our university forward.
As Maryland communicators, our core mission is to enhance the University of Maryland's reputation as a preeminent public research university, dedicated to the public good. Here you will find useful tips, guidelines and resources to support marketing and communication planning.
Brand Platform
Our brand platform serves to unify our campus. It is the strategic foundation for all university-wide marketing and communication planning.
Brand Themes
What does it take to change the world?
If you wanted to address the climate crisis or prevent the next health pandemic or erase racial injustice, if you wanted to improve the lives of millions of people around the world by solving the grand challenges of our time … what would you need?
You would need an unwavering belief in the power of science and a bold research enterprise. You would lift up different perspectives and backgrounds and embrace an open marketplace of ideas. You would need artists and creators to fire our imagination and to see the humanity in our challenges. And you would need an empowered and engaged group of people, shaped by incredible learning experiences, inspired by knowledge, and fueled by passion and purpose.
There is a singular place where these elements converge, every day. Five square miles of discovery and innovation and progress.
The University of Maryland.
The Office of Marketing and Communications will prioritize brand storytelling around these four themes: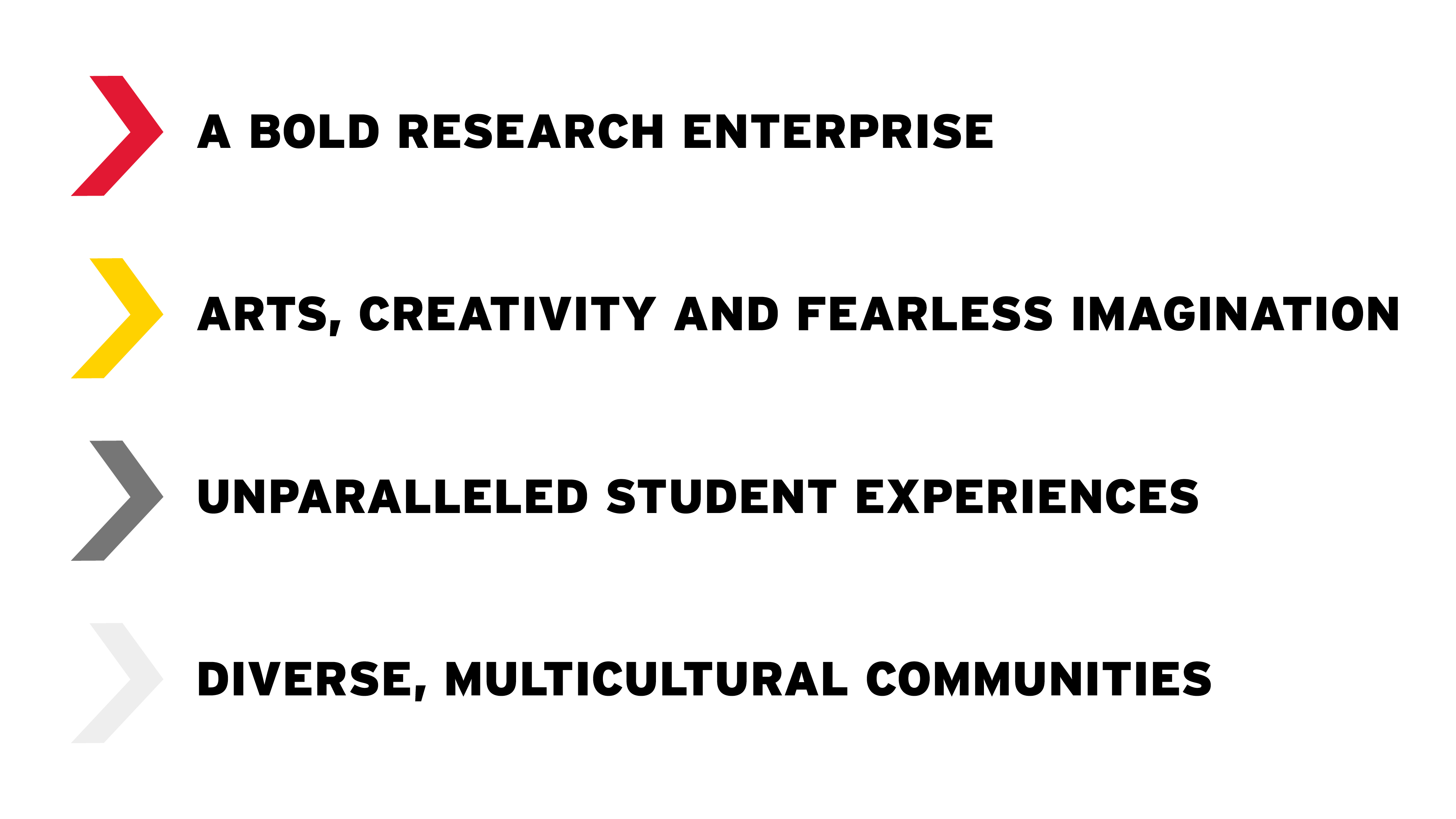 Brand Messaging
To create distinction in the marketplace and strengthen our identity, we must lead with bold statements, elevate our place as our core differentiator, amplify our purpose and call attention to our proof points as our reasons to believe.
What the University of Maryland does matters, and how we do it matters even more. Our brand campaign tagline is rooted in our brand essence. At the University of Maryland, we are fearless. Here, we lead Fearlessly Forward in pursuit of excellence and impact to make our world a better place.
When we prepare communications, our brand voice is:
Distinctive
Relentlessly Optimistic
Confident
Ambitious
Purpose-driven
Bold
Aspirational